Look to the Rock - ECM Unites!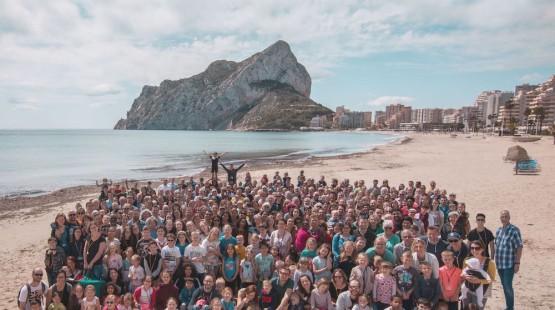 Monday 04 June 2018

06:43
Every two years the whole ECM international family comes together for a week-long conference. This year's theme was "Look to the Rock".
"You lifted me up, set my feet on a rock"
-Psalm 40
When was the last time you felt lonely? The life of an ECM worker can be a lonely one. You look different. Making friends – real friends – is hard. People view your job with suspicion. Your old church family is a half a world away. Even the nearest Australian believer may be in another country.
And then there's the language barrier... That's why ECM's only worldwide gathering, Biennial conference, is so vital. For the hundreds who attend it every two years, it is a time to re-connect with fellow workers and be encouraged to continue planting the Word in hard soil.
It was no different this year for the 450 people who attended Biennial in Calpe, Spain. They hailed from all four corners of the globe and minister in 23 European countries. The event has its focus on mission in Europe, as what most missionaries usually do is focused at the local or national level.
Chris Wigram, ECM International Director, taught from the Bible faithfully under the overall theme of "Look to the Rock".
"Christ is our Rock," says Matt George, ECM Director – Australia and NZ. "We do not stand on any other worldview. Europe is changing quickly but has no rock to ground it."
Around 50 individuals, couples and families who work with or who are associated with ECM Australia and New Zealand attended for a time of fellowship and renewal.
Such people included ECM-Spain's Rafi (pictured on front cover and bottom right), who found Biennial a great encouragement to persevere, despite her heart regularly breaking for her little Spanish town which is so hardened to the gospel.
Others, such as ECM's Dani Ball, serving in Waterford, Ireland, says of the conference: "The morning worship and preaching
times were soul filling, challenging and encouraging [and offered] refreshment in difficult ministry and life circumstances."
Aside from quality time with fellow workers, Biennial was a busy time of Bible talks, prayers, singing and ministry updates from the field, along with small group Bible studies, and seminars on topics relevant to missionary life. These included the state of Europe, video-making, issues that "third culture kids" go through, marriage enrichment and ways to point to Christ in everyday conversations.
"Biennial is so good for us... you could simply read the telephone directory in the main sessions and it still would be a blessing," laughs ECM's Richard Wilson, serving with his family in Trento, Italy. "The fact that there is good teaching and fellowship as well is a bonus."
Gina Borg, ECM Australia's "newest missionary", serving with husband Mark in Malta, agrees. "I was totally blown away by the whole thing! I'm still thinking 'gosh did that really happen?'"