Prayer Fuel for Missionaries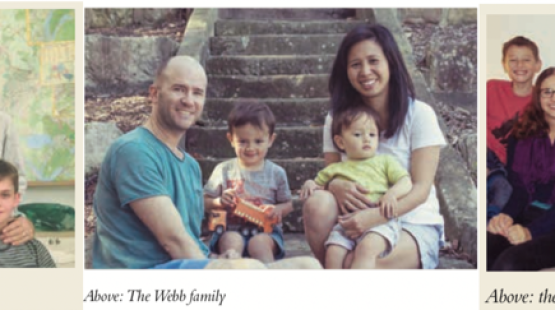 Thursday 07 March 2019

04:11
In days gone by, missionary home visits were called 'Furlough', a borrowed military term denoting a time for rest from active service. These days, the term 'Home Assignment' encompasses the reality that missionaries, while getting some rest, are also home to share about their overseas gospel ministry and to reconnect with churches and individuals who have been partnering with them in that work.
The experience of Home Assignment can change over the years of a missionary's life. In later visits, missionaries can often feel changes in their attachment to their home country and an increasing sense of belonging to their country of service. The first Home Assignment carries with it unique hopes and uncertainties. It can be difficult to imagine or predict what that time will be like.
As you read this, three of our missionary families are in Australia on their first assignment. Before they travelled back here, we asked them to share with us some hopes, concerns and plans for their time here, along with some of the stories and prayer points they hoped to share.
James and Carolynn Webb and their children have been ministering in Spain. They've recently begun new work in Zalla in the Basque Country. They arrived back in Australia in October.
"On our first Home Assignment, we are looking forward to spending time with family and friends and feeling completely relaxed!
We hope to make the most of great Christian fellowship and being fed by God's word at our wonderful supporting churches. We also want to make the most of Christian conferences, interesting courses, and eating some good Asian food.
Please pray for Toby and Gabriel to be settled in Australia. Also pray that the very new friendships we have established in Zalla will be unaffected by our absence for three months.
We'd love to tell people about what's happening in Basque Country in Spain and how God has opened different doors for mission. We're keen to share the vision of opening the hostel for pilgrims on the Camino de Santiago in our town in Zalla.
We hope to get people trying some Basque food and getting a taste of Spain and it's needs. We'd love to see people ignited and inspired to reach the people of Europe for Christ."
Richard and Ali Maegraith and their children have been living and ministering in Berlin, Germany. They arrived back in Australia in September and so have already had a little taste of Home Assignment.
"We were looking forward to beaches! The opportunity to switch off from the intensity of life in Berlin and just be fully present with the family for a few weeks (before church visits).
We are experiencing what 'reverse culture shock' actually is! We wondered how our kids were going to cope with the constant moving around and whether the experience would 'unhinge us'. We were really feeling like Berlin was home for us and were feeling more settled than ever just before we left for five months!
Once here, we were surprised by how exceedingly beautiful and luxurious Australia is and how lovely it smelt ... how nasal the Aussie accent is ... how we all seemed to 'slot back in' and how much we didn't talk about Berlin ... and how lots of people absolutely loved seeing us but were not really that interested in what life was like for us in Germany.
We hope to make the most of being with people, impressing on them the fact that we have such a short life and as Christians we ought all to be asking God where in the world he wants us to be as witnesses for him. Maybe Europe!
We're asking people to pray for us to be bold in sharing about the urgency of the gospel.
Pray for our boys to settle well in school.
And pray for Frank. A believing German friend asked me if I could start an Australian prayer avalanche for her husband who is a chronic alcoholic.
We'd love to tell people about the opportunity for 'soft' short term mission. Over the last couple of years, many Australians have come to Berlin short term. Self-funded, they have joined us for family church and been enriched by the experience, as have we."
Thank you for your partnership in prayer and support of ECM's work across Europe.
Andrew and Kate Blackwell and their children have been ministering in Bulgaria. They will likely be arriving in Australia as you read this.
"We are looking forward to showing our younger boys Sydney and catching up with family and friends after having been away 31⁄2 years, including our son, Tom and daughter, Ellie. William doesn't remember too much of his city, so we will be spending some time playing tourist.
Thank you for your partnership in prayer and support of ECM's work across Europe.
We are NOT looking forward to Sydney traffic.
We hope to make the most of time! We have many people we want to see and want to spend quality time with each of our supporting churches.
We'll be asking people to pray for good use of time to build quality relationships in Bulgaria and opportunities to tell what God is doing in Bulgaria and how Australians are, and can be, a part of this, especially among the Roma people.
I (Andrew) recently spoke at a Roma church in Eastern Bulgaria, and assured them that they do not stand alone in the work they are doing in their community. Life and ministry is very difficult in this disadvantaged area, where the majority Muslim population is very opposed to the gospel. We have assured them that there are believers in Australia who will faithfully pray for them."
.............................................................................................................................................................................................................................................................................
PLEASE PRAY
Praise God for all He has done in and through the lives of these three missionary families.

Pray for fruitful times of sharing with their partnering churches and individuals here in Australia.

Ask for God to raise up more workers for his harvest through their sharing of the needs of Europe.