Consider Europe Evening, A Strategy to Impact Europe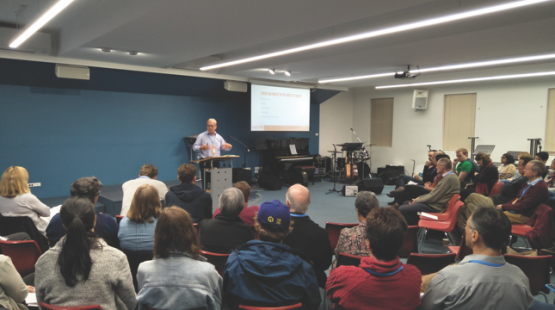 As part of the National Conference, a 'Consider Europe' evening was held on the Saturday night. We heard from Chris Wigram about approaches to reach modern Europe:
"We need missionaries who are: theologically faithful, not liberal; 'ecclesiologically adventurous in different contexts; 'prophetic', simply by teaching the Bible; and committed to the development of young leaders."
On the night we heard interviews with three young men currently training at Sydney Missionary and Bible College with the intention of heading back to Europe to serve God there. Samuel is planning to return to Portugal, to use his training among university students. Jotham is planning to return to Germany to serve the church there. Ross, after completing a two year short-term mission trip to the Republic of Ireland, is now receiving further training with the hope of returning to Ireland.
In the past, ECM has also worked in partnership with students coming from Austria to Australia to study at SMBC. The Pohns and the Haemmerles have been encouraged to see their training here in Australia, put to good use, as they've returned with ECM support to serve the Church in Austria.
While we heard of the many challenges in Europe at this time, it was heartening to hear that the courageous preaching of God's word will have the greatest impact for God's glory on that continent.
PLEASE PRAY: Give thanks to God for the ECM National Conference. Pray that it continues to resonate in the the lives of those who attended. Pray that it will spur them on tobe self-sacrificial disciples of Jesus andactive in God's mission in Europe.