Bearing Witness to Christ In Germany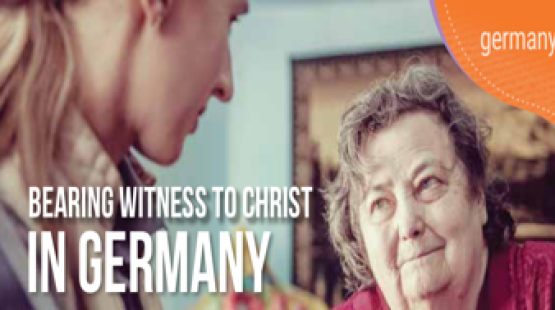 Tuesday 19 November 2019

05:25
As I am about to embark on a year-long mission trip to Germany with various fears and weaknesses, I am reassured by God's message to Moses: "Child, this is not about you, but it is about Me and I AM with you".

I grew up in a traditional protestant culture in South Africa (Afrikaans). In God's mercy, at age 14 my eyes were opened to true, biblical Christianity – centred on Jesus. I immigrated from South-Africa to New Zealand at 16, and then again to Australia seven years later.

I had exposure to different languages from a young age and then had the opportunity to study and work in Germany and France in my early twenties. I sensed God directing my paths toward missionary work but first He led me to become a medical doctor. Through some big life challenges such as suffering a rare disease that destroyed my hearing at age 25 (which required me to have a cochlear implant), God has been teaching me to long for something better than worldly comfort or success. That is, Christ himself, the Great I AM. He is God's great gift to the world I want to share.
Culturally speaking, I am drawn to Germany, as the Afrikaans culture I grew up with has Germanic roots. I long for German people to taste and see and hear the true gospel of Jesus Christ.
But the needs are great. Postmodern secularism and materialism have gripped the nation's heart. It is estimated that less than 2% of Germans belong to genuinely Bible- believing churches.
I will spend the bulk of my year in Germany in the town of Freiburg, where I will be studying International Health as a postgraduate student. Here I have an amazing opportunity to serve Christ's mission and to gain skills that will equip me further for medical missions. I will partner with the university student ministry group (called 'SMD'), and the ECM team in Germany, in the area of refugee ministry. Please pray that I might bear witness to Christ as I have opportunity and encourage the ECM team.