Consider Europe: The Re-Evangelisation of Europe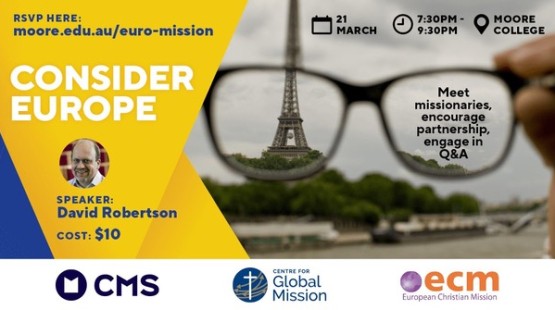 A night hosted by European Christian Mission (ECM), the Church Missionary Society NSW & ACT (CMS) and the Centre for Global Mission (CGM) to raise awareness of Europe as a mission field and to encourage Christians in attendance to play their part, in partnership with the church and mission organisations.
Meet missionaries, encourage partenership, engage in Q & A.
COST:
$10 per person, $20 per family (includes entry, materials provided and supper). Limited tickets at door
WHERE:
Moore College
|
WHEN:
21 March 2020,
7:30pm - 9:30pm

WHO: Main speaker will be David Robertson. David is a Scottish pastor, broadcaster and author. He has moved to Australia to lead a City Bible Forum national initiative called Third Space. The initiative's brief is twofold: to help Christians and churches to find the third space between church and culture where they can have gospel conversations, and also to be a third space itself, a place that interacts with those who are not Christian who have questions about Jesus, the Bible, the church and the Christian faith in general. Have a listen to an interview David did about why he is not an atheist.
A taster of what to expect…
Enjoy this taster video where speaker David Robertson speaks about evangelism in Europe today compared to the 1st century.