Did you miss Consider Europe?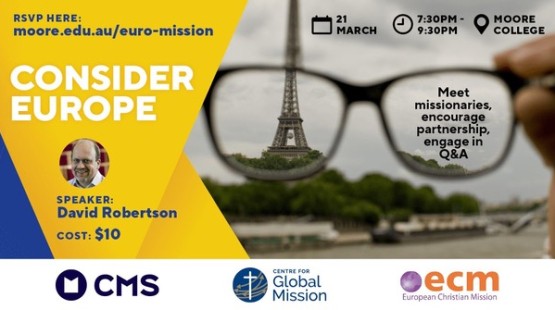 Consider Europe 2020
Missed Consider Europe? Don't worry you can watch a recording of the night here.
Consider Europe was held on the 21 March as a online event due to the Covid-19 restrictions in place at the time.n
The event was hosted by European Christian Mission (ECM), the Church Missionary Society NSW & ACT (CMS) and the Centre for Global Mission (CGM) to raise awareness of Europe as a mission field and to encourage Christians in attendance to play their part, in partnership with the church and mission organisations.
Be encouraged by Jess and Simon Cowell (serving with CMS in Italy) as they share about life as a missionary in Europe.
Guest speaker David Robertson then shared Part 1 of the re-evangelisaion of Europe. (Part 2 is planned for later in 2020)