Borgies Bus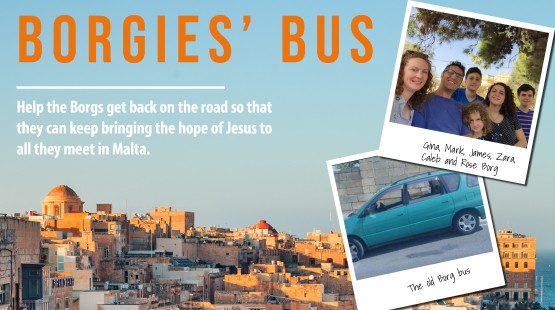 Help the Borgs get back on the road so that they can keep bringing the hope of Jesus to all they meet in Malta.
The Borg family, working with ECM in Malta, outline the problem they're facing and the plan to deal with the problem. Read on.
The Problem
We're in a pickle! Our previous transport, a 22 year old green Toyota Ipsum, literally created a new conundrum each week. In case you don't enjoy long, epic tragedies, here's the short version: less than 2 years = 3 cars, 4 mechanics and lots of wasted money, time and energy. Energy we want to re-direct toward gospel ministry and loving the Lord well here in Malta.
The Plan
As God prompts hearts to give, we're hoping to raise €10,000 for a reliable, newish, second-hand seven-seater van. We hope to be able to purchase 'the bus' by March.
Would you consider being part of the solution to this problem? In helping us end the epic car saga by making a financial contribution, we hope that this figurative 'bus' will transport our family of six and contribute positively to life and ministry in Malta.
The Borg Family
xx
They currently sit at 46% raised.

You can give now by hitting the button below.
Please select "specific worker or project" and then type in "Borgies' Bus" as the name of the project.
Thanks for your partnership in the gospel in MALTA!

If you want to purchase a 2 Marks Back to Back CD head here