Pray for Ireland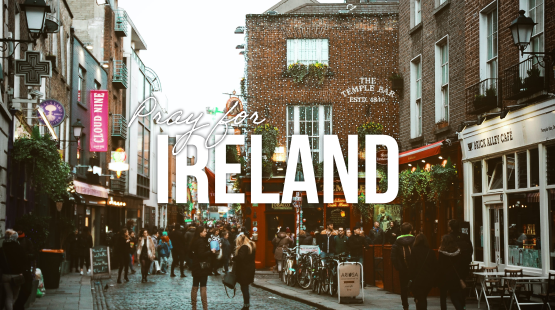 Join us along with our Partners in Prayer as we hear about and pray for the gospel work in Ireland.
13 July 2021
6PM AEST | 8 PM NZST

ECM is working with God to see biblically based and culturally relevant churches established in Ireland. Ireland today is increasingly becoming post-Catholic and secular.
On one hand, the spiritual landscape is quite bleak.
It has been said, "God is missing but not missed." Tom Inglis, a sociologist, who surveyed Irish people and observed: "Religion is not in the heart, in the minds or on the lips of Irish people." The role of the institutional church in the abuse of children and the most vulnerable has meant many are disillusioned or hostile towards faith.
72 towns with more than 5000 people have no gospel witness and
17 towns with more than 15000 have no gospel witness
1% of the population are evangelical Christians (the smallest of any English speaking country in the world)
On the other hand, the spiritual landscape is bright.
Vox- a Christian magazine- observes, "Largely under the radar, the last 30 years has seen an unprecedented explosion of new congregations across the island….Young, vibrant, growing, active, engaged, compassionate…these are NOT words that our society usually applies to church"