Pray for Malta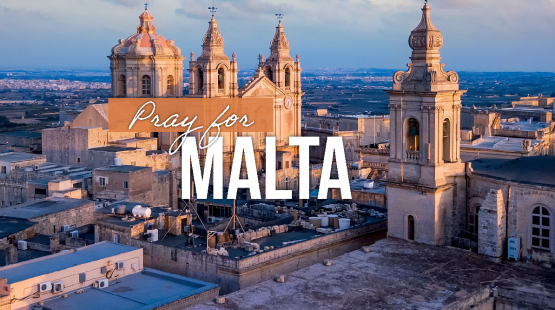 14th March 6PM AEDT
Join us along with our Partners in Prayer as we hear about and pray for the gospel needs in Malta.
Malta has a pride in her rich traditional heritage, especially as Paul's Acts 28 shipwreck location! Contrasts between contemporary European life and cultural religious identity mean there's an ease about God conversations and a desperate need to biblically define what it means to be a follower of Christ.


Mission work:
Malta's densely populated Islands are rich in cultural expressions of faith, with a calendar shaped by the rituals of the historic institution. However many live without hope, alienated from a relationship with the living God through Jesus Christ.
Church plants here are still in their first generation and ECM's involvement in the work here has just begun.


ECM longs for:
There is a heart for seeing local leaders raised and released in ministry and church planting through the Islands and to the nations.