Pray for specific ECM Workers
You can receive regular updates and prayer requests from specific ECM workers.
Simply head to our workers page and click on the person or family you wish to pray for.
You will then be taken their profile page where you will see a "Follow <Name>" button which will take you to a sign up form prefilled with their name.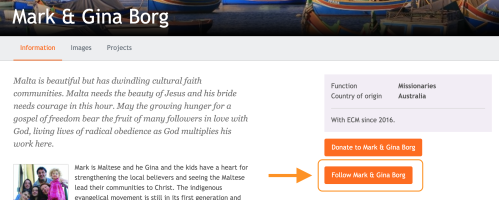 Your commitment to pray means a lot to us. We cannot express how vital we believe this ministry of prayer to be...only the Lord can soften hearts and minds and draw people to himself.