Accidental Missionaries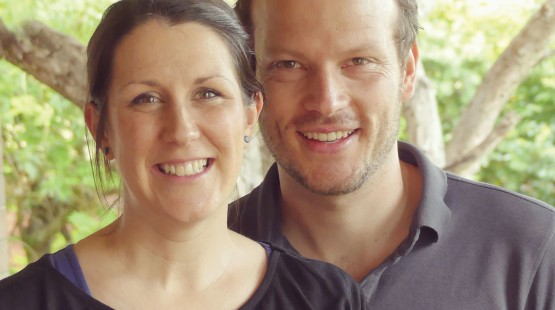 Friday 02 February 2018

00:30
God has shaped ECM missionaries Josh and Ali Reeve's path in very unexpected ways in leading them to where they are today.
When East-meets-West type former missionary kids, Josh and Ali Reeve, arrive in East-meets-West flavoured Albania in December, the root cause can be traced back to what Josh says was an accident.
"My former colleague, Mervyn Kirkpatrick, had a vision to start a ministry in Albania when he saw almost nothing there to support people with disabilities ... and there were very few church ministries for the disabled. So, in 2007 Mervyn co-opted me, and then Ali came on board. When Mervyn died in 2009, we took up running the project."
Since 2011, Josh and Ali have been trained and equipped for full-time ministry (they're expecting 10 or 15 or more years), focusing on disabled children and church planting in Albania. That preparation was undertaken at the Sydney Missionary and Bible College where they both completed graduate degrees.
Josh then spent a few years working towards a PhD looking at the Bible's perspective on disability, while Ali was studying, mummy- ing and wrangling medical boards. So it's no surprise that one thing these two are most looking forward to once they settle in Albania is to be working together: first in language learning and then in ministry.
Albania's East-meets-West status is a matter of geography, but for Josh and Ali it's a little different.
"God's moulded us to be East-meets-West kind of people," says Josh. "I was an Aussie who grew up as a missionary kid in Pakistan. Ali is a Brit – born in India – who also grew up as a missionary kid." And their subsequent meeting had a similar east-west flavour: it was in India on a gap year while working for Scripture Union. "We believe God's prepared us for ministry in an East-meets-West situation and, in our limited experience, we see Albania is that."
Josh's heart for the disabled was birthed in his time as a social worker among adults in theUK. And with Ali a qualified GP,their combined health and social care qualifications make them an excellent fit for their role in Albania.
But Albania certainly wasn't love at first sight. Initially Ali wasn't keen on a life of ministry there; she thought she'd be heading to the Indian subcontinent. But God had other ideas. "Once I met the people, God started a change in my heart," Ali says. "It took years, but He changed my heart." Ali had been expecting Albania to be a cold, Soviet-type place but, being on the Mediterranean, the feel of the country is quite different.
They left Australia on December 8 and they'll be heading for Tirana, Albania's capital city, where they'll learn the language in the New Year.
"We'll be joining the ECM team and we expect to be working alongside various churches," says Josh. "We'll work wherever the needs are; where we go will be decided in consultation between the local churches, ECM and us. We're hoping to help several local churches start ministries for disabled people and subsequently network those ministries so that they can share resources and support. We want to help equip the church to love, serve and share Jesus with those who are among the most marginalised in society."
Ali says she'd also love to be able to use her medical training in Albania, where the primary healthcare is not great. "We hope to keep that as an option for somewhere down the track."
Assessing the success of their ministry will be a challenge. "I honestly don't know how we'll do that," Josh says. "Plant the seeds and pray. If the network grows there will be something measurable. I suspect the fruit will be a long while in showing."
The first fruit of their ministry may be evident among Albanian adults through their work in church planting, which will be carried out under the guidance of an Albanian pastor. Josh and Ali will help him disciple and teach.
Understanding a little of the history of Albania throws some light on the complexity of the project that's ahead for Josh and Ali. Locals say that the apostle Paul planted a church at Durres and point to Romans 15:19, where Paul writes: "So from Jerusalem all the way round to Illyricum, I have fully proclaimed the gospel of Christ". "It's possible he was there," says Josh, adding that Christians had been in Albania as early as the 2nd century AD. But they were stamped out by invading empires which
led to 500 years' rule by Muslims. Now the country has about 10 per cent Catholics and 7 per cent Orthodox Christians, both of whom have been opposed to any Protestant presence.
"Here's a curious fact: we must apply to the Ministry of Cults to get permission to work and teach in Albania," says Josh.
In the 1800s large chunks of the Bible were translated into the local language. The country gained independence from the Ottoman Empire in 1912 and then followed two World Wars. Next came Communism and the prohibition of the gospel until 1989 when Communism fell; Christians came the following year.
Consequently, most of the believers in Albania are first-generation Christians; they don't know what it means to be Christian parents. "Most Christians there have no experience of raising Christian kids and how that might look different from the world," says Josh.
The Reeves' supporters might wonder if Josh and Ali and their three children will
be safe in Albania. "I've very rarely heard of missionaries getting into trouble. But it is a country where corruption is a problem," says Josh. "By and large, if you're not courting trouble, you'll be left alone."